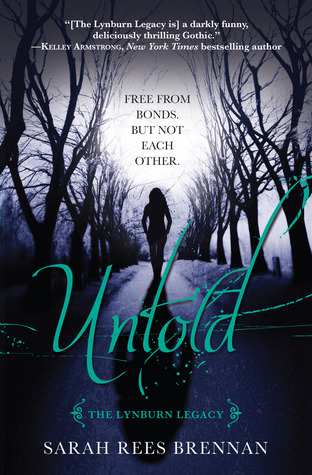 Rating: 3.5 Stars
Synopsis via Goodreads:
It's time to choose sides….

On the surface, Sorry-in-the-Vale is a sleepy English town. But Kami Glass knows the truth. Sorry-in-the-Vale is full of magic. In the old days, the Lynburn family ruled with fear, terrifying the people into submission in order to kill for blood and power. Now the Lynburns are back, and Rob Lynburn is gathering sorcerers so that the town can return to the old ways.

But Rob and his followers aren't the only sorcerers in town. A decision must be made: pay the blood sacrifice, or fight. For Kami, this means more than just choosing between good and evil. With her link to Jared Lynburn severed, she's now free to love anyone she chooses. But who should that be?

A darkly humorous take on Gothic romance, Sarah Rees Brennan's Lynburn Legacy weaves together the tale of a heroine desperate to protect those she loves, two boys hoping to be saved, and the magical forces that will shape their destiny.
Firstly,
I DO NOT CARE HOW IRRATIONAL IT IS, I SHIP KAMI X RUSTY.
That is all.
Besides that, first thing you should know is that this book is effing hilarious. There are so many times when I was gasping for breath because I was cracking up so much, and (of course) one of those times resulted in me choking on a pretzel (because it is me we're talking about here), so be warned, if you eat while reading this, it is a major choking hazard.
YOU HAVE BEEN WARNED.
Kami is one of the most witty heroines I have ever had the pleasure of reading about. Her remarks are quick paced in how she'll say something, and it might just take you a moment to get it. Other times, she's so blunt it's hilarious and completely true.
"Been chatting much with Jared?"
"We often have special moments where I come into a room and he immediately leaves," Kami said. "I treasure those times."  
And it's not just Kami who's so funny. All the characters are, which makes me want to dance-like-no-one's-watching, because that only makes them even more real, and not at all like so many side characters that simply blend into the background.
"The poor lady must have dropped that," she said, and undid the gate stepping out to get it.

Jared put his hand on it, "No."

Mrs. Jeffries stared down at him. "What do you mean…no?"

Jared and Mrs. Jeffries stared back at each other, neither breaking eye contact in a perfect deadlock.

Then Jared smiled at her. "I mean," he said with conviction, "it's mine."

"It's what?"

Jared stood up, pocketing the lipstick. "I know," he responded. "Everyone tells me I'm more of a summer."

Mrs. Jeffries continued to stare.

Jared continued to speak. "I'm going to go now. Me… and my lipstick."
My only complaint – and a big reason as to why I have it 3.5 stars – is that nothing even happens until, like, the last 50 pages! NOTHING! The only thing getting me through the middle of it was the humor that does not ever end (thankfully and miraculously) and Kami and Jared's shared, special moments. By that, I mean both the awkward and mean as well as the heartbreaking ones.
It's difficult, I think, to write a love triangle like this, to be able to make both guys – and the girl – heartbreaking in their own ways. Kami, in her humor; Jared, in his self-destructive way that I would usually find annoying, but did not here; and poor, poor Ash, who never stops crying and whining, but once again, for some odd reason my heart goes out to him for some unexpected reason.
And, of course, there's always Rusty.
If you've read this, or even read the first in the series, you probably are wondering how in all-that-is-Holy I can ship Kami and Rusty, because, well, Rusty isn't actually that big of a character. All he does is sleep with middle moments of some serious butt kicking. But, man, I love the guy.
"It's Russell Montgomery the Third, actually," said Rusty, still grinning. "But I'd be obliged if you keep that bit of information to yourself."
"I don't imagine any of us cares enough to remember," Jared said.
What I love about Rusty is that he's not your typical male character. He doesn't try to hold back or protect Kami or Angela, doesn't get involved in any drama unless he absolutely has to, takes the truth about the sorcerers in stride, but still tries to protect everyone in his own way. He's self-assured without being obnoxious about it. And he's always there for Kami or anyone else if they need him, and most of the time, they don't even have to ask for his help or advice; he just knows he needs to help them and does it. No questions asked. He's protective almost in that big brother way, where he looks out for everyone but isn't so much as a leader as just someone strong there to help if needed.
But not without being, well, Rusty in all his glory. That just wouldn't even be right.
"Don't pretend, Cambridge," he said. "You know my beautiful speech has made you see me in a whole new and even more attractive light. You totally think I'm secretly deep now. And you are right. It is true. I have deeps." He slid even lower on the sofa, his eyes falling almost completely closed. "Maybe," he added, his voice almost too casual, "this revelation will lead you to make the sensible decision, and go for me."

"And wouldn't that be a magical thirty-six hours," Kami said. "Before you died of exhaustion." 

Rusty did something unspeakable with his eyebrows. "Why Cambridge, I am scandalized!"