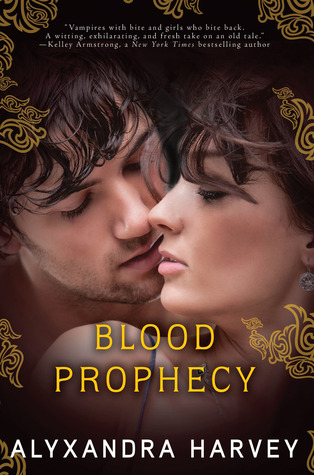 Rating: 3 Stars
Synopsis via Goodreads:
In the thrilling conclusion of the Drake Chronicles, love and loyalties will be tested … and proven once and for all.
Solange Drake has been officially crowned Queen of the Vampires, fulfilling the centuries old prophecy that foretold the rise to power of a daughter born to an ancient vampire line. Except Solange's thoughts and actions are no longer her own—she's been slowly being possessed by the spirit of Viola, the first daughter born into the Drake line, since her bloodchange. And instead of uniting the vampire tribes under the rule of an ancient daughter as the prophecy predicted, Viola would rather destroy them all and enslave humans in a personal vendetta for the devastation both wrought to her life centuries ago. Can Solange break her hold in time to save everyone she loves from a vampire civil war, hunter attack, and each other? Not everyone will survive the prophecy . . . perhaps not even her.
I was pretty disappointed in this conclusion. To me, this series is highlighted by the first three books in the series, but after that it just needed to end.
I loved this new take on vampires and especially the Drakes brothers. Particularly Nicholas and Quinn. Because while all the Drake brothers are super protective of everyone else, especially their little sister Solange and Lucy, the girls are all kick-butt as well. They don't hide behind anyone, and they're not useless.
Lucy, though, would have to be the highlight of the series. Since she grew up with the Drake brothers and is best friends with Solange, she doesn't swoon over the Drakes' good looks like every other girl. Instead, they're practically siblings (except, you know, Nicholas).
Lucy also has all the best lines. She's impulsive, and you get the feeling that if she were gone, the whole Drake family would fall apart. She's not a vampire, but she's just as important.
"The Drake farmhouse was like the chimpanzee enclosure at the zoo when feeding time was late.
You know, if all the chimpanzees were undead.
And insane."  
But in this last installment, I felt like it just kind of fell apart. I found myself skimming the pages instead of really reading them near then end. This has to do with the fact that it seemed the ending would just never come. Honestly, it should have ending about 50-100 pages before it did.
It actually kind of reminded me of Vampire Academy, and how while I liked the series well enough, by the fifth book it just needed to end.
Most of the time, the romance between the Drake brothers and whatever girl that novel is centered around (each book centers around a different girl and different Drake brother) is pretty good. It was believable, and added in that nice spice there is when vampires are involved.
"The Drake's didn't lure drunk college students out of the bars and compel them to forget being fed on. Well, maybe Quinn used to, but I could guarantee none of those girls needed to be compelled."
Also, that cover? It needs to die a slow, painful death. It makes it look like such a cliché romance novel, which it was not.
Actually, this novel probably had the least amount of romance in it out of the whole series. It's more focused on Viola's possession of Solange and everyone running around clueless like a chicken with it's head cut off. A lot of angst is going on here, and it's not pretty.
I felt like the author was trying to give us some epic, grand scale battle at the end. But I didn't want that nor do I think this novel needed it. It didn't feel right, and as I said before, this would have been so much better had it ended about a hundred pages before it did.