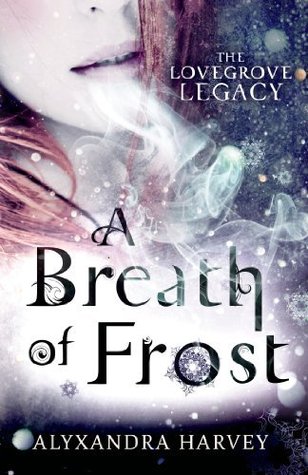 Rating: 2 Stars
Synopsis via Goodreads:
In 1814, three cousins—Gretchen, Emma, and Penelope—discover their family lineage of witchcraft when a binding spell is broken, allowing their individual magical powers to manifest. Now, beyond the manicured gardens and ballrooms of Regency London, an alluring underworld available only to those with power is revealed to the cousins. By claiming their power, the three cousins have accidentally opened the gates to the underworld.

Now ghouls, hellhounds—and most terrifying of all, the spirits of dark witches known as the Greymalkin Sisters—are hunting and killing young debutante witches for their powers. And, somehow, Emma is connected to the murders…because she keeps finding the bodies.

Can the cousins seal the gates before another witch is killed…or even worse, before their new gifts are stripped away?
I had high expectations for this book. I really did. I've liked pretty much everything else Alyxandra Harvey's written, so why wouldn't I like this?
I got about 2/3 into it, then slightly, slightly skimmed the last bit.
Emma is the main narrator here, and while I liked her and her bit of strong will, it was her "romance" with Cormac that pissed me off. Here's the background story that we get about her relationship with him: he kissed her, then snubbed her, and now she hates him but is secretly still attracted to him (go figure). And for the first part of the book, she puts up a good front, pushing him away and being annoyed whenever she runs into him.
But then . . . it went downhill. He's annoying in that "I know something you don't know and I'm not gonna tell you" kind of way. She asks him questions, looks for him, and he still won't help her. And when he does help her (and kiss her again), he's really betraying her. He then proceeds to continue to "help" her and her cousins, all the while tricking her. He then throws her into a cage, brings her before the Order (bad, bad evil people that I wish unto a painful death), and still doesn't answer any of her questions.
All the while Emma has no freakin' clue what's going on, or who the Order is, and is only just figuring out that she's a witch.
So after she's been embarrassed and treated very poorly by the (stupid) Order (that I may or may not just want her to use her powers on and blow them all up) who apparently now gets say over her whole life and if she ever steps out of bounds, they'll trap her powers in a bell jar, therefore ensuring her going insane, Emma is kidnapped and taken to a (freakin') boarding school.
Of freakin' course.
'Cause why not?
And then guess what happens?
Emma is still freakin' attracted to effing Cormac.
Have I mentioned that I wish so very deeply to punch him thoroughly? Do I even need to at this point?
Now, if I was Emma at this point, I would have gotten pretty darn angry. Because not only am I finding out that literally everyone around me KNEW I was a witch and most of them are witches themselves, and not only am I finding out that the reason my mother is insane is because she placed a powerful spell on me and my two cousins so we wouldn't find out about our powers, but now I'm not given a choice about attending this boarding school and being treated all around like crap.
I would also start to build a very high boiling anger towards Cormac, and begin to plot ways to murder him in his sleep and make it look like an accident.
THAT is how much this guy pissed me off.
But what does Emma do?
She's still thinking about how he kissed her.
Now, I do want to point out that she does get mad at herself when she finds herself thinking about him, like she should. But she just continues to do it. And when she is mad at him when she sees him next, he has to drop these little hints that he really does care about her and she doesn't know anything and blah, blah, blah.
And even though at this point he's kissed her TWO times, and then immediately pushed her away rudely each time, Emma still finds herself drawn to him. Like a freakin' hormonal bee to honey.
She shivered and he grasped her elbow and tugged her forward so she was sitting next to him on the seat. The carriage rolled on, jostling them together. "What are you doing?" she whispered.

"We may as well pass the time," he whispered back, his voice husky and sweet. 
He treats her like an object he can just use and then throw away when it suits him. And I realize that later we find out there's some "righteous" reason for him not to be with her, but he just can't help himself because he's so in loovvvveee with her, and – guess what? – I just don't give a hoot.
You know why? Because if there's some grand reason he can't be with her, fine. Do what you like. But don't you dare drag her along and make her think you like her, and then make her watch you later snog another girl at the next ball because you're trying to stay away from her. NO. JUST NO. It is not a good enough excuse to say the reason you're going through girls by the dozens and then ignoring the one girl you have feelings for is because it's for her own good.
And if he's come to this decision to not be with Emma, then why in Heaven's name does he keep making these advances on her? Is he just that much of a douche?
Yes. Yes he is.
This would not have been this bad of a book if it wasn't as long as it was. Around the middle, not much happens, and I found Emma's complete lack of anger towards Cormac and her whole situation just not realistic and – quite frankly – annoying.
I wanted to see Emma angry and frustrated. Instead, she just takes what's given to her, like a good little debutante. There should have been many, many more moments of her being pissed off at most everyone (especially Cormac).
There's all this secrecy and family lineage history that could have been very interesting, but – again – the book is far too long to hold my interest at this point. I may go back and try to finish it later. This could have been a very cute London witch kind of story about three kick-butt cousins, but it just failed.