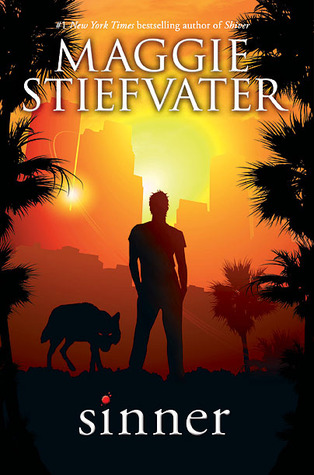 Rating: 4.5 Stars
Synopsis via Goodreads:
A standalone companion book to the internationally bestselling Shiver Trilogy.

Sinner follows Cole St. Clair, a pivotal character from the #1 New York Times bestselling Shiver Trilogy. Everybody thinks they know Cole's story. Stardom. Addiction. Downfall. Disappearance. But only a few people know Cole's darkest secret — his ability to shift into a wolf. One of these people is Isabel. At one point, they may have even loved each other. But that feels like a lifetime ago. Now Cole is back. Back in the spotlight. Back in the danger zone. Back in Isabel's life. Can this sinner be saved?
Tell me where to throw my money. Maggie Stiefvater is forever on my list of to-buy-the-instant-it-comes-out and, also, to-fangirl-like-no-one's-watching.
"I can't change the way I'm made. I'm a performer, a singer, a werewolf, a sinner."
Aren't we all, Cole St. Clair?
Well . . . except the werewolf and (for me) singer tidbit.
I cannot put into words how much I adore Maggie Stiefvater's writing. The first of her works I picked up was the Shiver trilogy, and while that did not impress me as much as I wished it would, her standalone novel, The Scorpio Races, made up for it. And then, and then, there was the amazing birth of The Raven Boys, and my love for this author was carved into stone.
Stiefvater is one of those authors that just gets better and better at writing the more she does it. Usually what I find what happens is that the first in a series is the best of it, and the rest are just there to continue the story and make it into a trilogy or something. Or the author's debut novel is the best, because it's what they (probably) spent the most time working on.
That is not the case here.
Even when I think Stiefvater cannot impress me anymore, she does. I thought The Scorpio Races were the cream of the crop, but then I was proven wrong with The Raven Boys. And again with The Dream Thieves.
I remember when first reading the Shiver series that I didn't love Isabel and Cole. In some ways Isabel annoyed me, even. And I had some concerns on picking up this standalone companion that the trilogy, because it would revolve around Cole and Isabel.
But, prone to her ways, Stiefvater has done it again and made me grieve thick trails of raw emotions all over my reading chair.
Because, dang, Isabel. Dang.
"I give so many damns at once that it actually hurt." 
I'm a pretty stoic person, and to my dismay, I found that in many ways I was like Isabel. Shutting off the "damns" until something happens that make all of them come rushing back at it to a point where it physically hurts.
"Those crafty damns found ways to give themselves when I was least expecting them."
I hear ya, sweetheart.
Isabel is the epitome of an ice queen. She feels nothing, cares for nothing, and goes through life simply forcing herself to take the next step. She puts on her nice little masks of indifference because the alternative is caring, and if she cares, she knows it won't be half-given. She'll do it wholeheartedly, and that's why no one besides Cole St. Clair has seen her cry. Because those pesky damns are locked away in a vault.
And there are so many times when she says something that just gets to me in the best way. Because it's something I've felt a lot or something I've thought before but never been able to put into words.
And then, there are those glorious times when she says something that makes all the sense in the world, and just sums up a human being in the best ways ever.
"Sometimes I took online quizzes to find out if I was a sociopath."
And then there's Cole St. Clair.
He's such a weird guy. But in the best way possible.
"Nice of you to get dressed for the occasion."

Cole's eyes darted to himself; he plucked at the skin on his chest. "Am I not wearing – I'm wearing pants! In, in. Come into my lair."
Slow clap for actually wearing pants, Cole!
Gotta love Cole and his (poor, poor, poor) attempts to properly dress himself.
He's a heartbreaking character – the best kind. He's fun and frustrating and all around human in the way Stiefvater is so good at doing. I think it can be difficult to truly write about a character that has a lot of thick layers of why they are the way they are. There is no one reason Cole St. Clair is the way he is – there is no one or two people or reasons that you can point at and say, "X, Y, and Z have made you this way, so you need to do A, B, and C to get better."
That's not how it works. As readers, we don't really get any reasons as to why Cole acts the way he does or why he's depressed or even why he loves Isabel as much as he does. It just is, and sometimes that can be very difficult to pull off.
I don't feel that this book can be labeled under supernatural YA. The points with Cole being a werewolf are short and not as all the main concern. The main concern is Isabel and Cole, and how they have a long list of strange and deadly things going on around them that can make being together extremely difficult.
The only reason this book lost half a star for me was the ending. It's not unhappy or bad in any way. It's just that I felt like it was a little rushed, and I felt that it should have been dragged out a little bit more. (I know, I know. That's almost the completely opposite of most novels I read.)