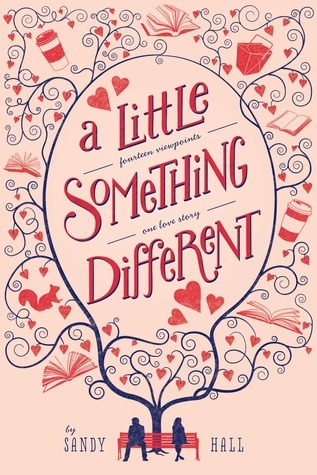 Rating: 4 Stars
*I won this book through Goodreads First Reads giveaway. In no way has this influenced my rating or opinion of this book.*
Synopsis via Goodreads:
The creative writing teacher, the delivery guy, the local Starbucks baristas, his best friend, her roommate, and the squirrel in the park all have one thing in common—they believe that Gabe and Lea should get together. Lea and Gabe are in the same creative writing class. They get the same pop culture references, order the same Chinese food, and hang out in the same places. Unfortunately, Lea is reserved, Gabe has issues, and despite their initial mutual crush, it looks like they are never going to work things out.  But somehow even when nothing is going on, something is happening between them, and everyone can see it. Their creative writing teacher pushes them together. The baristas at Starbucks watch their relationship like a TV show. Their bus driver tells his wife about them. The waitress at the diner automatically seats them together. Even the squirrel who lives on the college green believes in their relationship.

Surely Gabe and Lea will figure out that they are meant to be together….
This was bloody adorable! I really wasn't expecting to like this book as much as I did, nor was I expecting to swoon and blush and be flustered as much as I was. The romance between Gabe and Lea is very believable, told from many different POV's (except never Gabe's or Lea's POV).
Most of my reactions can be submersed with this gif:
I connected to Gabe must more than I did to Lea. He's horribly shy to the point that it's physically difficult for him to talk.
"You should probably converse."

"Maybe. Could also be fun to like her from afar and make up stories about her in my head and pretend we're dating."

"So, stalk her?"
YES.
Gabe and Lea are in the same creative writing class, and it's one of those awkward times when they know each other's name and might smile at each other when they pass each other outside of class, but have never actually talked to each other. There's an immediate attraction between the two of them that everyone else can see plainly, but both Lea and Gabe are constantly unsure about each other. Whether the other person knows who they are, what their name is, that sort of thing.
I think the reason I liked this so much is because the story is told from the POV's of Gabe and Lea's friends and even their creative writing teacher, a squirrel, a bench (yes, really), and that angry kid who always somehow gets caught in the middle of Gabe and Lea's "moments." It's funny and so very true about a lot of relationships.
Also, I just finished my first year of college and I kind of lived a situation like Gabe and Lea's. One where I knew this kid in one of my classes, we were sort of friends, but I never knew if he even knew my name. (Obviously I found out his name because I had a minor crush on him . . . and, yes, that does mean I Facebooked stalked him.)
It's one of those situations where you don't know if you should just blurt out your name awkwardly because it's so very apparent that you've never actually introduced yourself to the other person and vice versa. Do you just go for it and introduce yourself or just continue to awkwardly ignore that fact and get around ever having to say the other person's name?
When Lea and Gabe finally do start to converse (with words, not just with shy shrugs and pointed looks), it's so effing adorable.
"The most amazing thing just happened!" Lea says when she bursts into out dorm room.

"What?"

"I sat with Gabe at the diner and we ate food and played hangman!"

"That sounds like you babysat him."
Yep. That sounds like a normal (read: awkward . . . But really, what one isn't?) start to an adorable relationship.