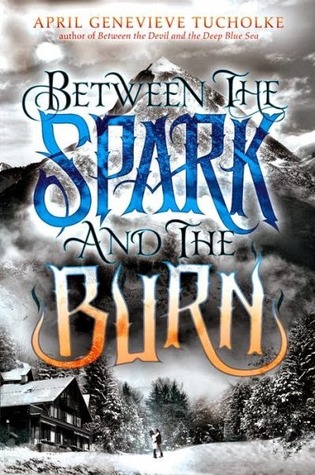 Rating: 4.5 Stars
Synopsis via Goodreads:
Freddie once told me that the Devil created all the fear in the world.
But then, the Devil once told me that it's easier to forgive someone for scaring you than for making you cry.
The problem with River West Redding was that he'd done both to me.

The crooked-smiling liar River West Redding, who drove into Violet's life one summer day and shook her world to pieces, is gone. Violet and Neely, River's other brother, are left to worry—until they catch a two a.m. radio program about strange events in a distant mountain town. They take off in search of River but are always a step behind, finding instead frenzied towns, witch hunts, and a wind-whipped island with the thrum of something strange and dangerous just under the surface. It isn't long before Violet begins to wonder if Neely, the one Redding brother she thought trustworthy, has been hiding a secret of his own . . .
I've been drooling over this book/cover since I finished Between the Devil and the Deep Blue Sea. I have quite literally read and re-read Between the Devil and the Deep Blue Sea at least a dozen times, and I always am able to find something new or cool hidden in the writing every time I re-read it.
But what I want to tell you is that this is not as good as the first book. Sadly, it did not met my expectations, but was still not even remotely a bad book. That's why I gave it 4.5 stars. I enjoyed it immensely, but it's not like the first in the series where I can joyfully re-read it a dozen times. Partly this is due to the new love-triangle between Violet, Neely, and River.
I don't mind there being a love-triangle, but – gosh darn it – I want Violet to end up with River. I really do. If she doesn't, I'm going to loose my s*** and there will be much moping and much coffee drinking and much River-wanting. This was such a fear of mine throughout reading. I liked Neely quite a lot, and had River not been . . . well, River . . . I would have been rooting for him.
I have not been so enthusiastic about a couple ending up together for a long time. With most books I read, it's blatantly obvious to me who the girl is going to end up with. And even with this love-triangle, I still thought it would be obvious to me who Violet would pick, but . . .
It wasn't.
Talk about biting my nails, because, man, I was seriously getting worked up when reading this book about who Violet would end up with. One chapter I'd resign myself that she would end up with Neely and then the next I'd be sure she would pick River . . . And on and on this went, causing me to drink far too much coffee and far too much River-wanting. Far, far too much.
I need River and Violet in my life.
In this sequel, Violet, Neely, Luke, and Sunshine go looking for River and Brody. They've heard rumors on a late-night radio show about the strange events going on in little towns. When they hear one that sounds like it could be River or Brody, they leave to investigate.
They first go to a tiny, tiny back-of-the-hills town that you can't even find on a map. The people don't like strangers and are being haunted by a red-haired boy who's most likely Brody.
"Black-feathered corpses. Everywhere. Piled up on steps, kicked into snow piles, dangling by their necks from lampposts and signs. There were eight nailed to the door of the dark, abandoned-looking Youngman's Inn, and five hanging by their feet from the iron church gate.
The four of us walked down the center of the road. Still and silent. I saw lights in windows, but there was no one in the street. Not a soul."
There, they met and save a red-haired boy from being killed by the townsfolk. Then they go to a little island and met a girl who lives by herself at the sea's edge in a ancient house. This island has rumors of missing boys and a cursed little shack by the sea where a brother strangled his sister and disappeared. Then, they go to Colorado and get snowed in. All the while they're picking up stray kids like them and Luke and Sunshine go back home and River . . . River isn't doing too great.
And I think that's what kind of killed this book for me. I loved River. I loved how evil and not-evil he was. He was such an intriguing character who you never knew when he was telling the truth and when he was being a lying liar who lies.
But here . . . he's ruined.
I wanted the coffee drinking, word-twisting, crooked smiling River. I wanted Neely to be like him and not like him at the same time. I wanted to see the two brothers connect on a deeper level and understand more why Neely is such a fighter and River such a wordsmith. I wanted to know more about their family and the Redding father who has too many children to count and should never be allowed to lie with another woman again. I wanted to met him, hate him, feel sorry for him but still have that burning flame of hate for being the father he isn't to River and Neely.
But I didn't get that.
The writing is still the same perfectness. Gothic and horror-ish and everything I could hope to find that would make me think of the smell of rotted pages and 1800's stories of a mad woman locked in the attic who sets fire to the curtains in the middle of the night.
I love it so much.
I also felt like Luke and Sunshine kind of got shuffled to the background here. I liked both of them, and Luke's and Violet's strange relationship with each other. Violet is stronger here, and she no longer takes any of Luke's or Sunshine's teasing. Not that she really let it get to her in the first book, but here, she's kind of a bada**.
The mystery surrounding Brody and River and what their spark and glow can do is pretty intense. I had no clue as to where Brody could even be for basically the whole book, as this story is much more centered on discovering what exactly the glow and spark they have can really do and how much Violet is just like Freddie, and discovering more of how Freddie's life turned out. And Violet making sure she and River don't turn into Freddie and Will.
The ending killed me and – I'll admit it – made me kind of upset. Not because it's a bad ending by any means, but because it's one of those endings that doesn't really answer anything. I had questions – sooo many questions – and I still do. I'd be fine if not all of them were answered, but I'd have liked it a little better if there had been more information provided as to what Violet and River and Neely were going to do now. Instead, it is the very definition of an open ending, one that actually makes me want to write fanfiction as to what will happen in the future.
Here's to hoping that April Genevieve Tucholke is a lying liar who lies about this being the last in the Violet, River, and Neely story.