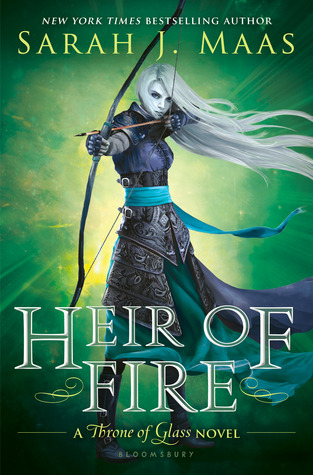 Rating: 5 Freakin' Bloody Stars
(Side note from Hannah expressing feels: HOLYCRAPSKJNFSJDNFLFDNLASDNROWANROWANLAKNDLSAKFNSLDNFROOOOWWWWAAANNNAKNDLAKNDILOVEYOUOAIJDAIJDSAOHMIGOSHAOIDJIAJDOASIJDTHEFEELSAKSDNKAJD.)
Synopsis via Goodreads:
Lost and broken, Celaena Sardothien's only thought is to avenge the savage death of her dearest friend: as the King of Adarlan's Assassin, she is bound to serve this tyrant, but he will pay for what he did. Any hope Celaena has of destroying the king lies in answers to be found in Wendlyn. Sacrificing his future, Chaol, the Captain of the King's Guard, has sent Celaena there to protect her, but her darkest demons lay in that same place. If she can overcome them, she will be Adarlan's biggest threat – and his own toughest enemy.

While Celaena learns of her true destiny, and the eyes of Erilea are on Wendlyn, a brutal and beastly force is preparing to take to the skies. Will Celaena find the strength not only to win her own battles, but to fight a war that could pit her loyalties to her own people against those she has grown to love?
I think it's safe to say I've been sold on this series. Big time.
Even with all the epic fangirling going on in Goodreads recently over this seires, I've not been joining in. Don't get me wrong – I never disliked the previous two installments in the series, but I didn't love, love them, ya know?
I loved Celaena as a character. I loved every aspect of her and her bada**-ness. Because there is more than enough to go around a-plenty. I loved the dynamic between her secrets and her past and every little bit about her we get to know and see slowly peels back her layers for the reader to see, because she sure as hell ain't going to do it immediately.
But that was where I lost interest. As I said before, the has been much fangirling going on with this series recently, so of course, there has been much shipping going on as well. (Obviously not the kind that floats in water and on occasions gets into pirate battles on the sea . . .). Dorian or Chaol.
Dorian or Chaol?
Chaol or Dorian?
Here's what I think:
Like, really people – I tried. I really tried to care about either Dorian and Chaol. As individual characters, I really like them. They have depth and everything else that goes nicely along with fully rounded, not-background-noise characters. But as romantic interests?
Nah.
Here's what I care about:
Because Celaena just kicks a**, man. She's the dream female character for an epic fantasy. An assassin that actually assonates people without pause, without remorse. Glorious, beautiful Celaena.
There is very little romance in this book. Which I very much liked, of course. It's still there, creeping up on Celaena when she least's expects it. Sure, there are the mournful moments when she misses Chaol, but very few and far between. She's a gal that ain't got time for her maaaannnn drama (*said in southern accent while snapping fingers*).  
You know who I care about, and who (besides Celaena, of course, because, ya know, look at the woman) made this book so, so good? The character that I truly, literally got teary-eyed for? (FWY: That doesn't happen. Like, ever.)
This beautiful, beautiful creature:
ROWAN WHITETHRON
The man male fae who has stolen my heart (along with Celaena).
He is a fae who is in charge of testing and training Celaena before she can go see Maeve and get her questions answered about the keys. He dominated this book with Celaena for me, and damn it, I hope so very badly that they become lovers in the near future, because this fae stole my heart and soul, and I'm gonna assassinate someone (Celaena style and all) if my hopes and dreams get crushed.
He's everything. And I do mean everything.
Sure, the guy starts out annoying and hurtful and just plain cruel. But he's a fool when it comes to Celaena. He's a fool when it comes to her past and just how far her pain goes, and, (*looks upward*) heavens above, Celaena's pain rivals that of any character I've ever read. And for some damn good reasons I might add. And because of that – and only because of that – I can forgive every nasty, taunting thing Rowan says at the beginning to provoke the demon in Celaena. He's ignorant of her pain, and that's just the way Celaena likes it. So they're both at fault, in a way. But, man, Rowan sure as heck doesn't make it easy for Celaena – or anyone for the matter – to talk to him, let alone open up to him to the point of becoming even marginally, healthy friends.
But, of course, it happens all the same. Because as like calls to like, these two characters are like oppositely charged magnets that just can't seem to shake each other. And I'm so very glad for it.
Slowly, ever so slowly, Celaena opens up to Rowan, and vice versa. It's a glorious, painful process, full of tears and panic and long-buried painful memories on both sides, and when you get right down to it, they completely belong to each other. Whether they belong to each other as more than comrades, I'm not too sure, but I hope so very, very much.
Whatever they are/are to become to each other, it's more than simply friends. "Friends" is not nearly a strong enough word to account for what those two are to each other, and it's brilliant. It's the kind of relationship that makes a person wonder how they managed to breathe so long without the other beside them. It's more than friends, not yet lovers, but something almost more grand and powerful than either that it almost – almost – doesn't matter what label you put on it. But it's freakin' brilliant.
I digress.
And you know what – sure, Rowan sometimes has that annoying habit of being way too macho and cool for his own good, but, hey, he's also a few decades old powerful fae, so my judgment is slightly withheld.
Here's why I love Rowan and not the other two males of this novel:
Rowan doesn't underestimate or deter Celaena.
He pushes her. He fights her and lets her punch him and punches her back, because that's who she is and that's who he is. He wants to make her as powerful as possible, and, gosh darn it, does he ever. He's her ultimate balance: logic when she is not, strong and tough when she is also. He is not afraid of her but does not undermine her. He sees her for who – what – she is, and loves her for it. He is strong besides her and doesn't push her behind his back in some horrid attempt to shield her, but understands and accepts her many, many scars (both physical and mental) and is loyal all the more to her for them. He will burn for her, with her, and will grin his sharp-toothed grin while doing it. He will see her scars and not be disgusted, but will be filled with a passion to hunt down the men who gave her those scars and make them beg for mercy, which he will not give. He will fight besides her – not in front of her, not behind her, and that is an epic thing right there. To trust someone else so much that while there is still that need to protect the other, there is also the recognition that to jump in front of them is to disgrace them. To let them take hits is to honor them, because they – Celaena – can take them.
And he is bound to her.
(*Coughs* Can I get in on this deal?)
Celaena is heartbreaking. Seriously. I can only remember one other time ever that I have wanted to cry for a heroine so much. And have – cried, that is. Or at least got somewhat teary-eyed.
We learn more about her past with her family before they were killed. The events leading up to their assassination and how the King of Adarlan played a role in it all. How so many people died for her. How so many people – both recent and past – have martyred themselves in her name . . . and she can't bear it. How they expect her to become something she doesn't want, but is being pushed into being. How it's tearing her apart limb-by-limb in the process as she tries – oh, how she tries – to be something they expect.
Celaena is not a half-hearted character, folks. She would sooner slit her own throat than be weak, and when she threatens doing just that, it is by no means an empty threat.
There are new, darker forces coming together during this third installment. Dark beings that want Celaena and her suffering, to drink and spoil themselves in.
It is wicked and it is the epitome for evil. It makes the monsters under your bed and the horrors Celaena has faced seem like happy-go-lucky dreams. It makes you crave the darkness that would end it all, make you beg for it – only you can't, because your voice has been stolen from screaming so much.
This book is just plainly an epic tale, full of wicked beings and strange, strange hidden desires of both the mortal and immortal kind. And the only salvation is to be found in the crooked form of Celaena Sardothien, the girl, the slave, the princess, the assassin, the hidden fae, the queen that is just as likely to slit your throat as pull you back from the darkness.