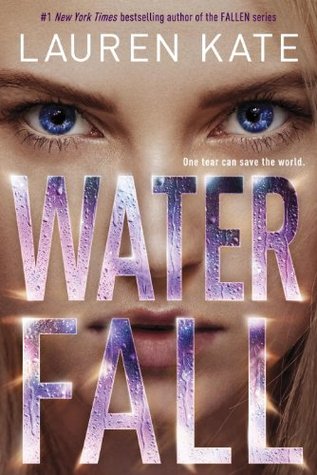 Rating: 1 Star
Synopsis via Goodreads:
From the #1 New York Times bestselling author of the Fallen books comes WATERFALL, a novel about love, betrayal, and epic consequences—a world-altering tale told by a girl whose tears have the power to raise the lost continent of Atlantis. This second novel in the Teardrop series is intensely romantic, with strong, hot main characters caught up in a thrilling fantastical love triangle. For readers who love Lauren Kate and the worlds of Alyson Noël, P. C. Cast, Maggie Stiefvater, and Veronica Rossi.

Eureka's tears have flooded the earth, and now Atlantis is rising, bringing with it its evil king, Atlas. Eureka is the only one who can stop him, but first she must learn how to fight. She travels across the ocean with Cat, her family, and Ander, the gorgeous and mysterious Seedbearer who promises to help her find Solon, an enigmatic lost Seedbearer who knows how to defeat Atlas.

Once on land, Eureka is taunted by gossipwitches, a group of displaced Atlantean sorceresses, and ambushed by locals struggling to survive amid the destruction her tears have wrought. And she feels no closer to facing Atlas or saving the world when Solon lets slip that love is Ander's weakness, and that any affection he feels toward her makes him age faster.

Trying to make sense of the dark world her sorrow has created, Eureka receives startling insight from an enchanted pond. Her bewildering reflection reveals a soul-crushing secret: if she's strong enough, Eureka can draw on this knowledge to defeat Atlas—unless her broken heart is just what he needs to fuel his rising kingdom…

In Waterfall, Eureka has the chance to save the world. But she'll have to give up everything—even love.
I think this book and what I'm feeling can be surmised in two words: Da fuck?!?
I literally have no clue in hell what just happened.
Like, I truly think I have just lost some brain cells after finishing that.
It's not that this is a bad storyline or even that it's written badly (though isn't the best, either), but it's the fact that I literally have no idea what just happened.
Maybe I should put a spoiler warning with this post, but, quite honestly, I don't think the things I'm going to talk about can be classified as spoilers, because Heaven knows that no one who reads this is going to be able to properly identify exactly what fresh hell just went on, so lets get too it.
I'm sitting here at my desk writing this, just completely laughing my butt off because I am so confused. Did Eureka die at the end? I dunno. It seems like she did, but who the hell knows? Oh, and Ander? WTF?!? Is he no longer the one you love, Eureka? This is a rhetorical question, because I literally have no clue, nor do I particularly care.
Because Brooks was suddenly all your teenage hormone mind could seem to care about during this book, so who knows? And then at the end . . . Did Brooks die too? I literally have no idea. I hope so. If for no other reason than to make this somewhat more interesting, but, hell, my brain is already revolting against me right now, so what do I know?
Imma hot mess right now, if you can't already tell.
Ander seriously got swept to the side in this book. It was all about him and Eureka and going against fate and true love and yadda, yadda, yadda, and then, all of a sudden, poof – no more romance. What the hell?!?  
I mean, don't get me wrong – I didn't like the guy already. But I figured he, Brooks, and Eureka were going to make the typical love triangle where we all knew poor Brooks didn't stand a chance.
Well, guess I was wrong.
And this surprise wasn't even a good thing. It made absolutely no sense.
The worst part – besides not having a clue as to . . . well . . . everything that went on in this novel – was that Eureka never even really broke it off with Ander. I mean, sure, I guess they were never officially together, but come on Eureka, when a guy goes against his homicidally insane family to save your life over saving the world, you gotta let the poor sap know you don't love him.
I thought this was a trilogy. There's no way it is now with that ending. Again, I still don't really understand what just happened during the last few pages of that ending – and for the sake of my brain cells, I don't think I'm even going to try – but it kind of left no room for another book.
Gosh, I don't even know what else to say. I'm so confused and this was just a ridiculous excuse for a sequel. The first one was bad, but bad in a way that I still got through it and on some infinitely small way enjoyed parts of it, but this? This is truly one of the worst books I have ever read. And that's really saying something.
My brain, guys. It hurts.
Do yourself a favor and don't read this. I don't even care if you've read the first book in the series and are like me where you have this stupid compulsive disorder that when you start a series, you must finish it. GO AGAINST IT. Tie yourself to a chair and tell your reading buddy NOT to let you touch your library card. I do not care how much it hurts; I am already saving you agony. DON'T GIVE IN TO THE IMPULSE, PEOPLE.