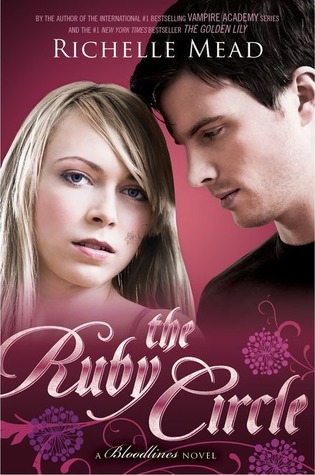 Rating: 4 Stars
Synopsis via Goodreads:
The epic conclusion to Richelle Mead's New York Times bestselling Bloodlines series is finally here…

Sydney Sage is an Alchemist, one of a group of humans who dabble in magic and serve to bridge the worlds of humans and vampires. They protect vampire secrets—and human lives.

After their secret romance is exposed, Sydney and Adrian find themselves facing the wrath of both the Alchemists and the Moroi in this electrifying conclusion to Richelle Mead's New York Times bestselling Bloodlines series. When the life of someone they both love is put on the line, Sydney risks everything to hunt down a deadly former nemesis. Meanwhile, Adrian becomes enmeshed in a puzzle that could hold the key to a shocking secret about spirit magic, a secret that could shake the entire Moroi world.
I still stand by my initial deduction: the Bloodlines series is still better than Vampire Academy.
Oh, dear. I can already feel the disagreement from behind my computer screen. Don't agree with me?
The Ruby Circle was not the best in the series by a long shot. To be honest, I think it's my least favorite of the series. But then again, after Silver Shadows, there was simply no way in hell Mead was going to be able to outdo herself. Just no way.
(Also, I still have no clue why the book was called The Ruby Circle. There was a circle at one point, but ruby? I have no clue where that came from. Honestly, I wonder if Mead was just trying to keep the trend going of having some kind of color in each of the titles.)
"Where are you going to put the other one?" asked Daniella.
"Wherever you like," said Ms. Terwilliger. "I can't take him with me. The guards saw me come in with one cat. They'll see me leave with one."
"What?" My mother-in-law's voice came out extra shrill to my ears. "That creature's staying?" It figured. Her daughter-in-law transforming into an animal? No problem. Having to take care of a cat? Crisis."  
To tell you the truth, I can't remember a lot that went of in the Vampire Academy series. But having said that, I also can't remember a whole lot that happened in the beginning of the Bloodline series either.
But that's not because I was bored (well . . . maybe a little bit in the Vampire Academy series), but because there was just so much going on all the time. And in a good way. Like, there are times when authors try to put so much information in a book and have so much going on at the same time that my mind just gets boggles, and I spend more time trying to figure it all out and connect the dots that I can't really just enjoy what I'm reading.
But Mead is one of the very, very few people who can pull this off. There is so much going on all the time, yet I love everything about it. I don't have to overthink everything that's going on, but it is by no means a simple read either.
I missed the swoon of Adrian and Sydney here. I missed their light banter all the time. It's still there, but just not as much. This did not feel so much as a continuation of their story but as the story of wrapping up loose ends.
That doesn't make it a bad book, not by any stretch of the imagination, but wasn't as good as previous books. Though I still enjoyed it immensely.
Also, want to know another reason the Bloodlines series is so much better than Vampire Academy?
Because we have Adrian as the main male. 
With his own chapter POV's.
Don't get me wrong – Dimitri is alright and everything, but I mostly liked him when he was a Strigoi. The whole strong and silent type just doesn't do it for me. Neither does the leather duster.
(Cue the fangirls' enraged gasps.)
"You're a terrible liar, boy," Rand called after us.
"Is he right?" I asked quietly, once we'd put some distance between the guest cabin and us.
"That I'm a terrible liar? No. I'm a fantastic liar."
But even though this was my least favorite book of the series, I still give it four stars. Because it's still flippin' amazing. These books simply make me happy. There's no other book or series like it out there.
This series isn't a vampire love story or a witch story or a forbidden love story, because it's all of those things and more. There really isn't a category I can cleanly put this into, because the best I can do is categorize it with what it has in it, but that's not really good enough.
Even though there have been, count them, six books in the Bloodline series, and, my gosh, another six books in the Vampire Academy series, I still haven't grown bored of this world. I would have been completely okay with more books of Adrian and Sydney's story.
"I told you before, we're the center," she said. "And the center will hold."
Crossing my fingers for another amazing series set in this universe.