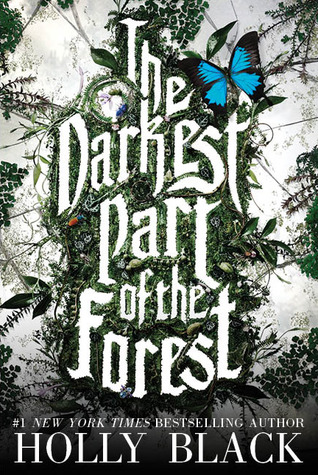 Rating: 5 Stars
Synopsis via Goodreads:
Children can have a cruel, absolute sense of justice. Children can kill a monster and feel quite proud of themselves. A girl can look at her brother and believe they're destined to be a knight and a bard who battle evil. She can believe she's found the thing she's been made for.

Hazel lives with her brother, Ben, in the strange town of Fairfold where humans and fae exist side by side. The faeries' seemingly harmless magic attracts tourists, but Hazel knows how dangerous they can be, and she knows how to stop them. Or she did, once.

At the center of it all, there is a glass coffin in the woods. It rests right on the ground and in it sleeps a boy with horns on his head and ears as pointed as knives. Hazel and Ben were both in love with him as children. The boy has slept there for generations, never waking.

Until one day, he does…

As the world turns upside down, Hazel tries to remember her years pretending to be a knight. But swept up in new love, shifting loyalties, and the fresh sting of betrayal, will it be enough?
I was first introduced to Holly Black with The Coldest Girl in Coldtown, and suffice it to say I fell fast and hard. I loved everything about it: Black's writing style, the magic of it all, the danger, the wickedness.
I was not disappointed with The Darkest Part of the Forest.
I have a weakness for faerie stories. And not the sweet kind either.
"There's a monster in our wood.

She'll get you if you're not good.

Drag you under leaves and sticks.

Punish you for all your tricks.

Anest of hair and gnawed bone.

You are never, ever coming . . . home."  
I mean the dark, ugly side of faeries. The kind that put Tinker Bell to shame. The kind that include Puck the trickster and Queen Mab and her otherworldly beauty.
This did not include Puck or Mab, but that doesn't matter. It still had that ripe, spicy tang that always seems to draw me to fae. I really can't tell you what it is about the faerie books I've read that simply click for me, but they make me at once wish so very much that all the old fairytales – the real ones, like the Grimm Brother's, not the Disney screened ones – were real, but at the same time, my rational side is so very thankful that they are simply fairytales.
Because the real kind of faerie is more likely to convince you that taking a midnight swim is a good, fun idea, only to hold you down and drown you. The real kind of faerie is more likely to make a deal with a human that is so cunning that it seems like you're getting the better deal, that somehow you've outsmarted this immortal, wise creature, when really you've just sold your soul away for seven years for a bargain that will never, ever go in your favor. Because human's have no hope of ever outwitting a faerie.
I loved that the fae have this otherworldly beauty that at once beckons us like a moth to a flame and at the same time disgusts us, tells us something is not right, that is . . . thing . . . is wrong.  It's existence goes against everything That Should Be.
"Once, there was a girl who vowed she would save everyone in the world, but forgot herself."  
I especially love a faerie love story. Not because I except a nice, happy little normal love story, no, not on your life when it comes to the fae.
I expect a tragic love tale. Because that's all you an get with faeries.
(And I just really like tragic love stories.)
I expect a love story of the ice boy and human girl. One cruel and wise, one soft but firm. One to look the other in the eye and be hesitant and a bit afraid, but solid and unmoving.
Hazel was everything that I could want. She is strong and made of steal, but also breakable. Because that is the amazing thing about faeries and humans – one knows they are breakable, the other does not.
Unlike in many other faerie books, Hazel is not afraid of Jack, the faerie she grew up with. She understands that he is different, that he is Other, but she accepts that. Yes, she is drawn to that magical side of him, but what human wouldn't be?
What I loved especially about this book, though, was that it wasn't just a faerie love story.
"He saw now the ways in which they tried to be careful with each other, afraid of hitting those raw places where they might hurt each other almost without trying. But sparing another person is a tricky thing. It's easy to think you're succeeding when you're failing spectacularly." 
 It's a story about a brother and sister who go into the darkest part of the forest to slay the monster. Except their not playing pretend. The monsters they face are very real and very deadly.
It's a story about a brother and sister who try to hide their fears and tears from each other, who try so hard to be the martyr in their relationship that they can't even see that in doing so they are being so very, very selfish to each other. Because all those white lies and closed lip smiles add up until a brother and sister no longer know how to talk with each other.