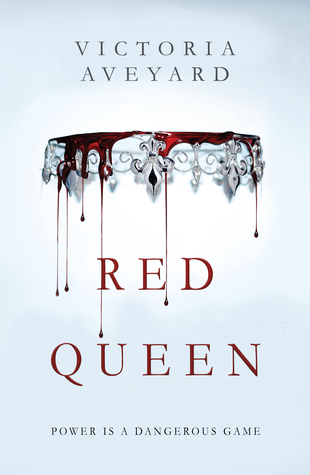 Rating: 2.5 Stars
Synopsis via Goodreads:
The poverty stricken Reds are commoners, living under the rule of the Silvers, elite warriors with god-like powers.

To Mare Barrow, a 17-year-old Red girl from The Stilts, it looks like nothing will ever change.

Mare finds herself working in the Silver Palace, at the centre of
those she hates the most. She quickly discovers that, despite her red blood, she possesses a deadly power of her own. One that threatens to destroy Silver control.

But power is a dangerous game. And in this world divided by blood, who will win?
For those of you like me who were unfortunate enough to read The Selection, this book is trigger central for the horrors that were The Selection.
Let's see . . . a gathering of pretty, bratty well-to-do girls for the crowned prince's hand in marriage, all competing against each other, camera everywhere – though Lord knows even this isn't enough to deter our (read: stupid) protagonist from doing stupid things that will be caught on camera, even when she thinks she being "sneaky" and won't get caught – and the best friend that may have more than just "friendly" feelings for the oh-so special protagonist?
Oh, where oh where have I heard this before . . .
"Anyone can betray anyone."
I feel like this book betrayed me. I was expecting so much better.
Honestly, the only reason I rated this as high as I did was because for some inexplicable reason, I raced through this, my heart pounding (on for than one occasion because I was actually nervous for the protagonist and her stupid, stupid decisions), and on some scale this was an entertaining read. It kept me up past my bedtime, I will admit.
The reason for this, though, was because of the few redeeming qualities: tension, suspense, stupid decisions that I was just waiting for the fallout for, suspense, a decently done love triangle, not A-typical characters (excluding Mare), and, oh, did I mention . . . SUSPENSE?
I just can't deal with a stupid heroine. For the sake of my mental health I . . . just can't. And Mare was STUPID, man.
Off the bat, I knew what this story was going to be after the first few chapters. And can I just get this out there and say that this theme is soooo done and dead. Please, authors, stop writing The Hunger Games knockoffs. The overdone theme of a split society of poverty and the elite, where we have the dirt poor heroine who somehow rises up and is SPECIAL (*shudder*) and somehow, in-between getting her friends and family killed and stupid decisions, saves the world and turns it around where the devil rich are defeated and the kind, poor are risen up.
Please.
Stop this crap. I am beyond sick of this theme. The Hunger Games, Matched, The Selection . . . the list could go on and on.
Besides that, though, I had some real beef with the females portrayed here. Like so many other YA books, why are all the women besides the heroine catty, b-words? Every. Freakin'. Time.
These women are simply there to make the heroine look that much better. To put a little spotlight on her to say that she could do no wrong.
The ending, though . . . The ending made me both enraged and happy. Happy, because I never would have expected it. Enraged, because I feel that it was only there to push Mare into another man's arms. I was pissed, because, frankly, I only liked one of the love interests in the book from the very beginning, and also from the very beginning, I could tell that he didn't stand a chance. How did I know? Because the heroine always ends up with the guy she meets first. There are almost never any exceptions.
There were some times when I felt Mare was a decent heroine. Key word: some.
"I'm a Red girl in a sea of Silvers and I can't afford to feel sorry for anyone, least of all the son of a snake."  
The times where I realized she honestly wasn't thinking so much about the love interests. Where I felt she was more concerned with the fate of her people than which prince she'd end up with.
But then . . . But then she had to go and kiss one of them.
MOTHEROFGOODNESSME
What's worse is that Mare even says no. Like, literally, she says the word "No." Like, hey, dude, no don't kiss me, we have better things to do and worry about. But she says it half-heartedly, and what does the idiot prince do?
Kisses her anyway.
Honestly, this was where that prince lost all hope with me. Because even if we're inside Mare's mind and we know she actually did want the prince to kiss her, if a girl says "No" when a guy's about to kiss her, under no circumstances should said guy go ahead and kiss her.
Mare does not listen to any good advice. She makes stupid, selfish decisions that not only endanger her, but her family and other people how have risked things for her. She does not think things through.