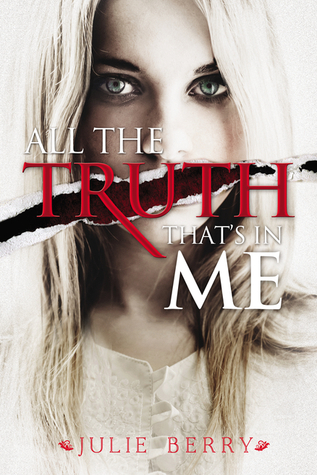 Rating: 3 Stars
Synopsis via Goodreads:
Four years ago, Judith and her best friend disappeared from their small town of Roswell Station. Two years ago, only Judith returned, permanently mutilated, reviled and ignored by those who were once her friends and family. Unable to speak, Judith lives like a ghost in her own home, silently pouring out her thoughts to the boy who's owned her heart as long as she can remember—even if he doesn't know it—her childhood friend, Lucas. But when Roswell Station is attacked, long-buried secrets come to light, and Judith is forced to choose: continue to live in silence, or recover her voice, even if it means changing her world, and the lives around her, forever. This startlingly original novel will shock and disturb you; it will fill you with Judith's passion and longing; and its mysteries will keep you feverishly turning the pages until the very last.  
To me, this was a very odd story. It's written in fragments, in second person narrative, and there are many times in the beginning where I felt Judith was telling me exactly what happened and who cut out her tongue, but it was done in such a way where it was unclear. I couldn't tell if Judith was telling it as it was or if she was just going insane or if her memories were also in fragments.
"I don't believe in miracles, but if the need is great, a girl might make her own miracle. Even if that means enlisting the devil's help."  
We're placed in Judith's life in Roswell Station, some time after Judith came stumbling out of the woods were she had been for the last two years. But now she can no longer speak, her tongue having been halfway cut out.
Judith's mother orders her to never attempt to speak again, to never show anyone what was done with her. She is now known as a mute and soft in the head. It is assumed her maidenhood was taken from her, and she is treated how any old village would treat an unmarried girl who lost her virginity, even though she has made it clear that was not the case.
"Strange how my body and its purity have become the town's sacred possessions, yet they spare me no pity. It's as if they were the ones wronged, not me."  
Judith is silently in love with her childhood friend, Lucas, who might have been more if she hadn't disappeared two years ago. Now she watches him, unnoticed by everyone in town. She is without a tongue, and a woman without a tongue and who is assumed to not be a virgin is less than nothing during this time. It is assumed she will never marry.
But while Judith came back two years ago from the woods, Lottie did not. Instead her body washed up in the river, naked and with bruising around her neck.
And Judith knows who kept her for those two years, but she does not say who. Her mother has forbid her, she no longer has a tongue and can only barely write, and so she becomes the taint on the village, keeping her silence.
Her mother cannot look at her and can only barely tolerate her. She thinks the worst of Judith, and no longer calls her by her name. She, too, sees Judith as a harlot.
I was reminded of The Scarlet Letter a bit here. Judith wears her silence and mutilated tongue like Hester wears her scarlet A.
While the village condemns Judith and treats her as the village idiot, Judith is silently saving them, going to great lengths to save her village from foreign threats, even if it means going back to her kidnapper.
And that's what really got me here. This girl has absolutely no reason to care or feel anything for the people of Roswell Station, yet she never carries any anger. She's almost disconnected from feeling bitterness or resentment. And it's not because she's a pushover or because she has bought into this mindset that she is less because of her gender and because of the morals dictated to her by a world run by men and pastors who enjoy the task of preaching about ungodly things and hell and the evilness of the fairer sex.
"And what rules of economy dictate that a boy without a foot is more whole than a girl without a tongue?"  
If any of the people of Roswell Station are godly children, it's Judith.
Despite everything, she loves her village. She loves the boy who barely looks at her anymore, who doesn't know what to do with the girl who was once a close childhood friend. She loves him even as he breaks her heart, and yet she still does not ever become bitter about any of it.
"The people you save won't celebrate you. They'll gather the wood and cheer while you burn."  
And even when Lucas begins to understand what happened to Judith during those two years and begins to understand that he may be in love with her as well, Judith doesn't jump at the chance. She doesn't want to be the mistake he makes because he feels sorry for her. The village people might thinks she's broken and that she'd be lucky for any man to take her as his wife, but Judith knows better, and she has enough love for herself not to let men take advantage of her, even if they're like Lucas and have decent intentions at the beginning. Because, ultimately, it wouldn't take much for the village people to point their accusing fingers at Judith if she should slip up.
Judith gives the benefit of the doubt to Lucas, because in many ways he is a victim as well. It is different for him, since he is a man and she is a female, but that doesn't mean he's without accusations. This is a Puritan village, and no one is ever shameless or victimless in a Puritan village.   
"I nod. Young love is not always forever. I know."