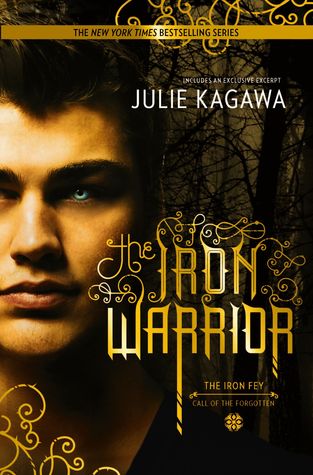 *I received a Goodreads first-reads ARC of this novel. In no way has this influenced or changed my opinion of this novel.*
Rating: 4 Stars
Synopsis via Goodreads:
The Iron Prince—my nephew—betrayed us all.

He killed me.

Then, I woke up.

Waking after a month on the brink of death, Ethan Chase is stunned to learn that the Veil that conceals the fey from human sight was temporarily torn away. Although humankind's glimpse of the world of Faery lasted just a brief moment, the human world has been cast into chaos, and the emotion and glamour produced by fear and wonder has renewed the tremendous power of the Forgotten Queen. Now, she is at the forefront of an uprising against the courts of Summer and Winter—a reckoning that will have cataclysmic effects on the Nevernever.

Leading the Lady's Forgotten Army is Keirran himself: Ethan's nephew, and the traitor son of the Iron Queen, Meghan Chase.To stop Keirran, Ethan must disobey his sister once again as he and his girlfriend, Kenzie, search for answers long forgotten. In the face of unprecedented evil and unfathomable power, Ethan's enemies must become his allies, and the world of the fey will be changed forevermore.
I've been a long standing fan and avid reader of all things Julie Kagawa. I have read every book of hers to date, and I will continue to read every book she puts forth.
I remember I was only beginning high school when I first heard about her Iron Fey series. The Iron King was something I'd stumbled upon on Amazon (this was before my time of Goodreads, terror at the thought), and after reading the synopsis, I knew it must be mine.
And so, I searched many, many bookstores in my tiny little town of Shreveport, Louisiana (where I no longer live, thank God). I couldn't find it anywhere. I was so determined and so disappointed, I remember, and I was just about to order it off of Amazon when I went out of town with my family and finally found it in this little, about to run out of business bookstore.
I was so excited, it wasn't even funny.
And then I read it in one day. And then I wanted moorrrreeee.
But, alas, Ms. Kagawa had not published the sequel yet, and I was amazingly unhappy. No one had heard of her by this time and I had not yet found the wonder that is Goodreads, and so I was alone in my stupor, waiting for the sequel to come out many months later.
You can guess how I was when the sequel did finally come out.
I loved the Iron Fey series with Meghan, Ash, and Puck. But, I will admit, I loved Puck the most (sorry, not sorry, Ash).
I've inhaled every Iron Fey book Ms. Kagawa has come out with in the meantime, and I was originally weary when I found out about her continuing the series through Ethan's eyes, but I was not disappointed.
While Ethan and his gang will never compare to the original cast of Meghan, Ash, and (swoon worthy) Puck, I enjoyed them quite a lot. But, mostly, I loved this world.
And that was the selling factor for me. Some authors' strong suit is character development, and while Ms. Kagawa has quite a lot of that, more than anything her strength relies on her scenery and worldly development. Everything is detailed, but not overly so. Never was I bored when reading about the Nevernever or the Between or any other aspect of it.
The stories are journeys. That's really the reason I love these books so much (that and Puck).
So I'll always take whatever characters if that means I get another glimpse into this fearie world. This conclusion was fantastic, and I got so many more glimpses into the Nevernever and the Between, from an insane carnival with bloodthirsty clowns to a bleak land of darkness and Forgotten. Everything is just so original.
My heart ached at all the right places, and one thing I have to also give Ms. Kagawa credit for is not shying away from angst-y or somewhat sad conclusions for characters, because it's very real. Sometimes people die and there is not some wonderful, impossible magic to bring them back at the last minute, sometimes people don't always end up together, but end up alone, and sometimes the right thing to do is not always the best thing to do.
I suppose any real complaint I have about this series would be that I would have liked more time with the original cast (especially Puck). I loved seeing Momma Meghan and Papa Ash and Trickster/Crazy-fey-uncle-that-sometimes-gives-the-prince's-Momma-and-Papa-a-heart-attack Puck.
I do hope there is another series in this world, but this time I would love nothing more than to see Puck get his happy ending. That man has been alone for too long.

(Sorry, not sorry – I had to.)