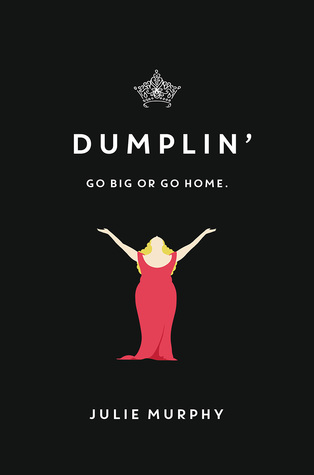 Rating: 2 Stars
Synopsis via Goodreads:
Self-proclaimed fat girl Willowdean Dickson (dubbed "Dumplin'" by her former beauty queen mom) has always been at home in her own skin. Her thoughts on having the ultimate bikini body? Put a bikini on your body. With her all-American beauty best friend, Ellen, by her side, things have always worked…until Will takes a job at Harpy's, the local fast-food joint. There she meets Private School Bo, a hot former jock. Will isn't surprised to find herself attracted to Bo. But she is surprised when he seems to like her back.

Instead of finding new heights of self-assurance in her relationship with Bo, Will starts to doubt herself. So she sets out to take back her confidence by doing the most horrifying thing she can imagine: entering the Miss Clover City beauty pageant—along with several other unlikely candidates—to show the world that she deserves to be up there as much as any twiggy girl does. Along the way, she'll shock the hell out of Clover City—and maybe herself most of all.

With starry Texas nights, red candy suckers, Dolly Parton songs, and a wildly unforgettable heroine—Dumplin' is guaranteed to steal your heart. 
I had expectations for this book. Good, decent expectations. Expectations that included Dumplin' being this strong-willed heavyset girl who, yes, has self-doubts and insecurities like the rest of us, but who ultimately scoffs at the size 0 models from Victoria's Secret and this expectation that girls shouldn't – and that it is unattractive to – have meat in their thighs and who can't shop at those stores that only sell sizes 6 and down.
"I guess sometimes the perfection we perceive in others is made up of a whole bunch of tiny imperfections, because some days the damn dress just won't zip."  
But that's not really what I got here.
Dumplin' shouldn't have to prove a point to her mother and to herself that she is beautiful just the way she is and that she can still feel good about herself despite her size. And Dumplin' makes a point to repeat many times that she is completely happy with how she is and what her life is like, if not prone to moments and times of self-pity and doubt, yet she signs up for the local beauty pageant just to prove all this.
Firstly, I don't really understand that line of thinking. It doesn't make sense to me that in an effort to make herself confident again about her weight Dumplin' signs up for a beauty pageant. How is this going to make her confident again? Also, I kind of hated this stigmatism that all the girls who do beauty pageants are shallow, stupid, catty girls who are too skinny. That's quite the double standard.
Those girls who sign up for those beauty pageants have revolved their world around that one thing. Some girls have a sport, some have an art, and for some girls, that one thing is a beauty pageant.
Now, I do understand Dumplin's sentiment. I understand that the big stigmatism for girls who enter beauty pageant is that they have to look a certain way, be a certain weight, have certain ideas, and behave a certain way. I understand that Dumplin' thinks that if she can show to her small town that a girl who isn't any of those stigmatisms can still enter a beauty pageant and who maybe still won't win, but who still has every right to be on up that stage, she'll feel better about herself and might even being doing a good thing. I get that and admire that.
But there are girls who really train for this competition. Who have been looking forward to this one thing for a good chunk of their life. And Dumplin' just doesn't get that or respect that. I felt that in some ways, this book was a double standard.
"I've wasted a lot of time in my life. I've thought too much about what people will say or what they're gonna think. And sometimes it's over silly things like going to the grocery store or going to the post office. But there have been times when I really stopped myself from doing something special. All because I was scared someone might look at me and decide I wasn't good enough. But you don't have to bother with that nonsense. I wasted all that time so you don't have to."  
Now obviously I do think that it's ridiculous that girls are expected to loose weight right before the pageant. I think it's horrible that we're considered "fat" if there's some giggle in your thighs and maybe we even have a little bit of a muffin top.
But Dumplin' wasn't what I expected her to be.
There are good lessons here and a lot of real problems about how women are perceived and what is expected from them in terms of how they look, but I just think it could have been presented better.