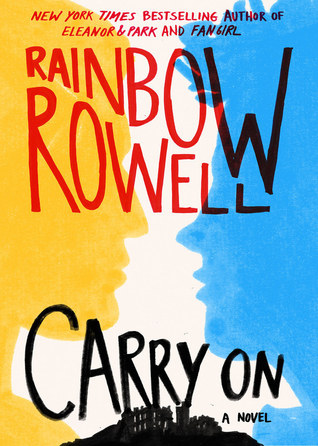 Rating: 4 Stars
Synopsis via Goodreads:
Simon Snow is the worst chosen one who's ever been chosen.

That's what his roommate, Baz, says. And Baz might be evil and a vampire and a complete git, but he's probably right.

Half the time, Simon can't even make his wand work, and the other half, he sets something on fire. His mentor's avoiding him, his girlfriend broke up with him, and there's a magic-eating monster running around wearing Simon's face. Baz would be having a field day with all this, if he were here—it's their last year at the Watford School of Magicks, and Simon's infuriating nemesis didn't even bother to show up.

Carry On is a ghost story, a love story, a mystery and a melodrama. It has just as much kissing and talking as you'd expect from a Rainbow Rowell story—but far, far more monsters.
The most common sentiment about this novel is that this is like a Harry Potter fanfic with HarryxDraco.
This is a completely accurate sentiment.
And I loved every bit of it.
If you know me, you know that I'm obsessed with Rainbow Rowell. I think it would take quite a bit for me to give one of her books a bad review. Particually, I love her novel Fangirl. And if you've read Fangirl, then you know that Cath, the main character, is obsessed with the Simon Snow series, which is basically a fanfiction version of Harry Potter. Cath writes Simon Snow fanfiction and is darn good at it. And now, Ms. Rowell made all my dreams come true and wrote an actual book based on Cath's version of Simon Snow.
I loved everything about this. It was a little slow at the beginning for me, but that didn't stop me from reading this book in one day. I ripped through this sucker. I ate it. I inhaled it.
Firstly, I loved the cast of characters. Of course, you can't read this book without thinking about Harry Potter – I mean, this is a book about a magic school in England and a chosen boy – Simon Snow – who has been prophesized to defeat a great evil. And Simon and his gang go on adventures all the years they're at this magical school to defeat evil beings from stealing their magic.
"Just when you think you're having a scene without Simon, he drops in to remind you that everyone else is a supporting character in his catastrophe."  
Sound familiar anyone?
But I didn't mind this. Of course I love Harry Potter (who doesn't?), but that had nothing to do with my love of this novel.
I loved this because I found Simon adorable, if a bit thick at times (but in an adorable and hug-worthy manner, of course) and Baz hilarious and very loveable, despite the fact that if anyone ever said that to him he would probably bite their face off . . . literally.
I loved Baz's swagger. Yes, I do mean swag. That boy has it.
"I am going to die kissing Simon Snow. Aleister Crowley, I'm living a charmed life."  
Baz is so utterly confident and vicious and sarcastic and I loved everything about this boy. I loved that I saw a bit of Draco in him, because personally I've always loved Draco, despite his crap decisions, because if you want to get right down to it, Draco sure as heck didn't have a lot of good choices to begin with.
Baz was born a villain. Born into one of the highest Families there is and expecting to defeat and kill Simon Snow for no other reason that he is the Mage's Heir and he is seen as the personification of all things good. It's not actually a question of if he wants to kill Simon . . . but that doesn't necessarily mean he's complaining about it either.
For a moment – not even a moment, a split second – I imagine him saying, "The truth is, I'm desperately attracted to you." And then I imagine myself spitting in his face. And then I imagine licking it off his cheek and kissing him. (Because I'm disturbed. Ask Anyone.)
Baz isn't trying to be good. He doesn't want to be good. It's not a question of if he can prevent Simon's or his own death – he knows he can't. But he'd like to get to the point where maybe the day they actually face off for the last time, neither would actually be trying to kill the other because they want to, but just because they have to. That's all he wants.
And while Baz is confident in his prideful, swaggy way, Simon is just as confident. He's not shy about anything.
Simon is confident he's not the "chosen one." He has too much magick in him, and none of it good. He can't control it.
Both boys are playing roles that were decided for them both long before either was born. And neither can really do anything about it. Sure, they may have choices – Baz could leave his powerful family in their cold castle and Simon could tell the Mage to suck it, but doing either of those things won't really help anything, not when there are places all over England loosing magick.
There are always choices, but neither Simon nor Baz have any good ones between them.
Personally, I would have loved more from this book. I'd love for a sequel, especially after that ending. I would have loved to go more in depth for Penelope and Agatha. Because one thing I can say about Rainbow Rowell is that she doesn't create background characters.
Penelope is basically Hermione. And Agatha may seem to be the spoiled, beautiful girl who doesn't know what she wants, but she's also the girl who wants to break away from magick and live a Normal life, because that's just the one she prefers. She, too, has been placed in a role – a role next to Simon Snow, because she and he look so perfect together that no one could ever think they weren't made for each other – and doesn't really know how to break free from it.