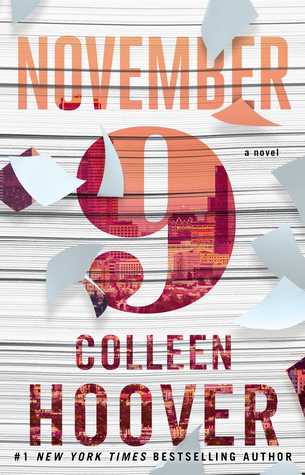 Rating: 5 Stars
Synopsis via Goodreads:
Fallon meets Ben, an aspiring novelist, the day before her scheduled cross-country move. Their untimely attraction leads them to spend Fallon's last day in L.A. together, and her eventful life becomes the creative inspiration Ben has always sought for his novel. Over time and amidst the various relationships and tribulations of their own separate lives, they continue to meet on the same date every year. Until one day Fallon becomes unsure if Ben has been telling her the truth or fabricating a perfect reality for the sake of the ultimate plot twist.
Soooo goooooddddd~
"You'll never be able to find yourself if you're lost in someone else."
I wasn't expecting this. Really, I wasn't. With Colleen Hoover, I never know what I'm getting, but I believe this is my third novel by her that I've read, and it's by far my favorite.
I almost didn't want to give this five stars. Not because it isn't that good – 'cause it is – but because I tend to be scarce with any five star review. Five star reviews are, to me, basically saying this book is as near to perfection as you're gonna get.
But I just couldn't give this anything less than five stars. My heart ached during this.
I loved everything about this. I loved how we don't see any other aspect of Fallon and Ben's lives except on November 9 for so many years. Even if they leave on bad notes with each other, well, the next part we read about is going to be a year later since that happened. And I loved everything about that. It added a whole new spectrum to this story.
I even loved the near insta-love. Yes, you heard me. I loved it. It actually – stay with me now – seemed believable.
*le gasp!*
This was partly due to how both Fallon and Ben make fun – out loud – about how if their story was a book, they'd both be gagging at the insta-love. I found this adorable. And then Fallon starts using all the book-ish terms we all know and love, such as our TBR pile, insta-love, alpha male, etc, etc, . . .
"Don't stop" I tease in a seductive voice. " Give me more, Ben. Did you read eBooks or…" I run my finger slowly down his chest."Hardbacks?"
He pulls his hands behind his head and a smug look washes over his face. "Oh, they were hardbacks, all right. And I'm not sure if you're ready for this, but…I have my own TBR pile. You should read it, Fallon. It's huge."
I found their love believable, which anymore is a hard thing to find in YA novels set in real life. Sure, Fallon and Ben have an instant connection at the very beginning and meet in a way that most likely would never actually happen in real life, but it wasn't gag worthy. They spend their first day together, and maybe they're both a little reckless for their own reasons, but Fallon's leaving that night no matter what.
"Seriously though. This female attraction to the alpha-male throws me off a little bit, because I'm not anything like the guys you read about."
Yeah. You're better.
"I could never drive a motorcycle, or fight another man just for fun. And as much as I've fantasized about having sex with you this year, I don't think I could ever say, 'I own you', with a straight face. And I've always wanted a tattoo, but probably just a small one, because no way in hell I could endure the pain. Overall, the books were interesting but they also made me feel highly inadequate."
And you know what I really, really loved?
Fallon refuses to give Ben her phone number once she leaves. 
They spend the whole day together, kiss each other, really, really like each other, and Ben asks for a way to contact Fallon . . . and she says no.
Email? Nope. Social media? Fallon blocks them both on every social media site they're on, on both their phones. Fax? LOL . . .  but no.
She doesn't want to move to New York and be held back by anything. And she makes a great point: If she and Ben exchange phone numbers, all either of them are going to be focusing on all year long is when the other is going to text them, call them, and won't be able to live their own lives.
So no way to contact each other. They agree to meet up the next year, same time, same place, but that's it. No contact whatsoever before then.
No promises, either. Ben wants Fallon to go on dates with other guys; he even wants her to kiss at least two other guys before he sees her again. He's no alpha male. He isn't possessive of her, doesn't get easily jealous of this girl he just met and has an instant connection with.
So they meet up each year at the same time, same place. And then we get to hear what's going on in their lives, what's happened. There's drama, but nothing gag worthy. Heartbreaking at times, yes, but never gag worthy.
The ending killed me. I never felt that Fallon or Ben were stupid or childish or rash. There's even a point when Ben begs Fallon to stay with him, to let him move with her to New York, and while Fallon would love that, she doesn't want to be the girl Ben uproots his life for. He's needed in L.A., and she recognizes that. So she says no, even though it crushes Ben.
I loved that. That was an amazingly adult decision to make, and I agreed with it. Ben had just gotten seriously tragic news, and the last thing he needed to do was uproot his life and make a sudden, rash decision based on a girl.
I loved Ben. Seriously. He's adorable. I loved that he doesn't try to be all alpha male, because personally there's nothing about that I find attractive. Ben cries nearly as much as Fallon. He doesn't suck it up and be all tough, 'cause he's hurting.
I even loved how absolutely, utterly hormonal boy-ish he is. Literally the first thing we get out of Ben when he sees Fallon is him wondering what her boobs look like. Seriously. He's attracted to her, majorly, and Hoover is able to write about that without making Fallon look like a piece of meat.
Ben fights for Fallon. He sees her as a gift. He treats her like perfection, even though she's not. He pushes her to stand up for herself, to get back the motivation and self-esteem she lost when a good chunk of her body was burned in a fire. He'll stand up for her, but he'll also make sure she stands up for herself, always.
Not going to lie – there were parts of this book that were hot. Like, Hot with a capital "H." It's not even that there was too much detail or anything, but . . . my gosh, Ben knew just the things to say without making Fallon – or me – feel awkward like is sometimes the case when things get heated between characters.