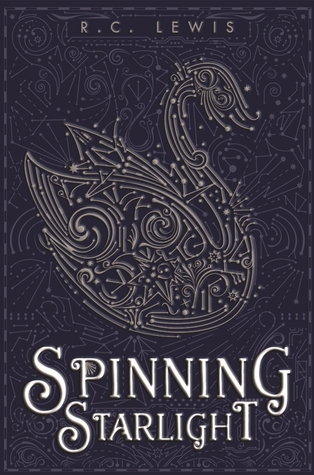 Rating: 3 Stars
Synopsis via Goodreads:
Sixteen-year-old heiress and paparazzi darling Liddi Jantzen hates the spotlight. But as the only daughter in the most powerful tech family in the galaxy, it's hard to escape it. So when a group of men show up at her house uninvited, she assumes it's just the usual media-grubs. That is, until shots are fired.

Liddi escapes, only to be pulled into an interplanetary conspiracy more complex than she ever could have imagined. Her older brothers have been caught as well, trapped in the conduits between the planets. And when their captor implants a device in Liddi's vocal cords to monitor her speech, their lives are in her hands: One word and her brothers are dead.

Desperate to save her family from a desolate future, Liddi travels to another world, where she meets the one person who might have the skills to help her bring her eight brothers home—a handsome dignitary named Tiav. But without her voice, Liddi must use every bit of her strength and wit to convince Tiav that her mission is true. With the tenuous balance of the planets deeply intertwined with her brothers' survival, just how much is Liddi willing to sacrifice to bring them back?

Haunting and mesmerizing, this retelling of Hans Christian Andersen's The Wild Swans strings the heart of the classic with a stunning, imaginative world as a star-crossed family fights for survival in this companion to Stitching Snow.
So disappointing.
I tried so hard to like this. A re-telling of a non-popular fairytale, The Wild Swans? Interesting, unique theme and storyline?
Check and check.
I'd never heard of The Wild Swans before this book, but that didn't matter. The theme, the engineering genius of all the siblings, the worlds, the single sister trying to save all her older brothers no matter what . . . I loved it all.
But something was still missing. The middle of the book just kind of dragged on for me, with Liddi unable to talk and communicate with other people, especially since she lives in a world so advanced that the written language is all but extinct. She was never taught how to write. (This sounds like a horror book at this point to me . . .)
She's frustrated, and I get that. And she does everything she can to save her brothers, even with them telling her that they'll take care of everything, that they just need her safe.
I loved the sibling love going on. In any book that has deep-rooted sibling connections – especially brother-sister connections for me – I applaud it. It's hard to find nowadays.
"Like Durant always says, if someone knows something you don't, don't be proud—just get learning, quick."
In that sense, this book is a five out of five stars.
But . . . that wasn't all this book was about, unfortunately.
The romance left something to be desired. Tiav is nice enough. Kind, trusting enough. I didn't have any issue with his character. I liked him. I just didn't love him.
There was nothing about him that was memorable to me. Frankly, I would have been just fine with no romance involved in this, just sibling love.
I wanted more time with Liddi and her overprotective brothers. I wanted more backstory about Liddi and her life as the inheritor to the most prominent business in all the worlds. About her parents' deaths. We do get little snippets in-between chapters of this, and I found that those were the parts I liked the best.
Liddi is a good character. She doesn't make stupid decisions, doesn't put her brothers in more danger with her choices. Sometimes she acts rashly, because she sees an opening and takes it, but only with the best of intentions that I could understand. I would have done the same.
While Liddi is prone to a bit of angst and self-loathing, it's not too much. She gets over it easily enough.
But sometimes the world was a little difficult to understand. I found myself confused as to what scenes looked like. I didn't quite understand the mechanics of a lot of the things that were going on in the story, about the engineering process and what these "portals" between the worlds look like, how the man-made ones were even created . . . Which wouldn't be so bad, since Liddi herself doesn't quite understand all that, but it got to the point where my eyes were skimming over paragraphs because I couldn't understand what was going on.
I had a problem with the ending, too. It took me by surprise, I'll give it that, but not in a very good way.
I think I was hoping for a story more like Stitching Snow, which was one of my top reads of last year.